When:
October 22, 2022 @ 2:00 pm
2022-10-22T14:00:00-06:00
2022-10-22T14:15:00-06:00
Where:
Campus Park at City Center
2516 King Blvd NE
Rio Rancho
NM 87144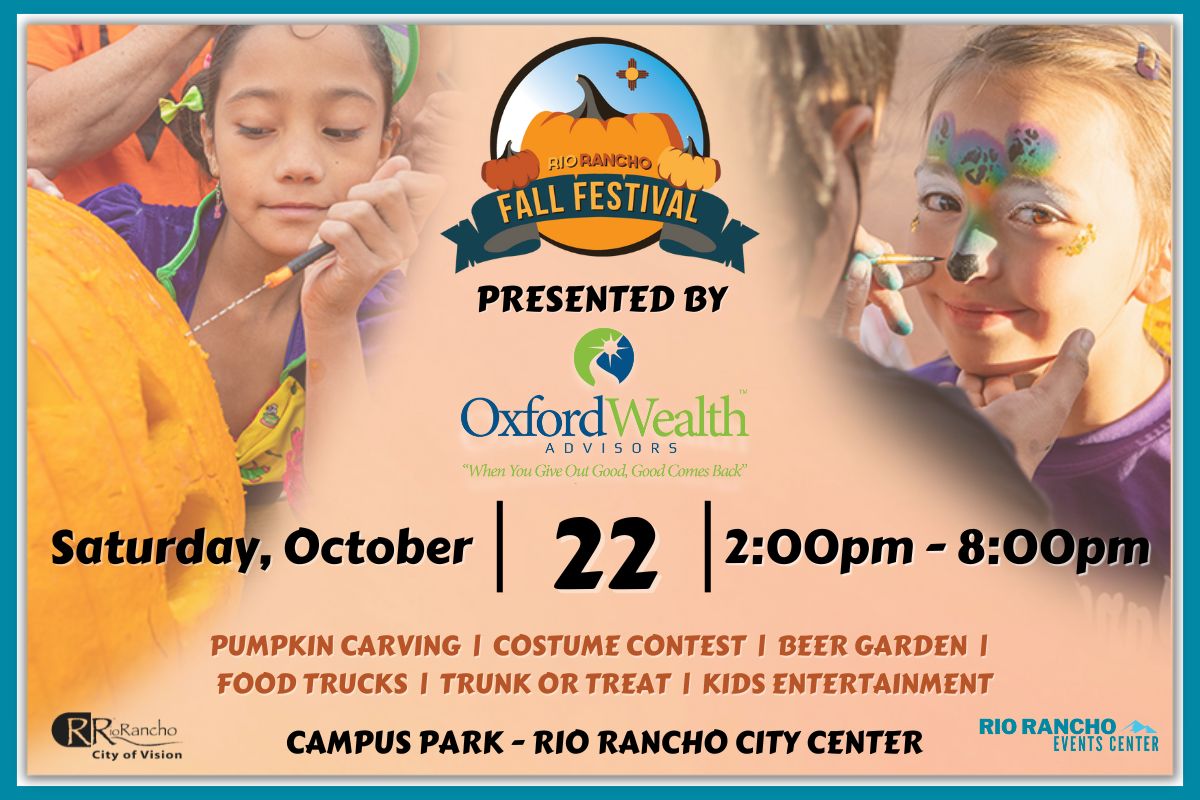 The City of Rio Rancho is excited to announce its 2022 edition of the Rio Rancho Fall Festival presented by Oxford Wealth Advisors, which is a free family friendly event. This year, the festivities will again take place at Campus Park at City Center on Saturday, October 22, 2022 from 2:00 p.m. to 8:00 p.m.
"Last year's Fall Festival was a huge success and we look forward to building on this wonderful community event," said Mayor Gregg Hull. "I invite all citizens to come out and take part in all of the festivities happening throughout the day."
City Center will be decorated to celebrate the fall season and live music will be playing throughout the day in the Sky Room at Campus Park. This community event provides something for everyone: carnival games, pumpkin carving, food trucks, a beer garden, and trunk or treating. All ages are encouraged to wear and show off their Halloween costumes!
Event Activities Schedule
Throughout the day, there will be activities event attendees can participate in:
2:00 p.m.—8:00 p.m.: Children's Carnival & Face Painting
2:00 p.m.—6:00 p.m.: Pumpkin Carving for the public
2:00 p.m.—8:00 p.m.: Live music in the Sky Room
2:00 p.m.—6:00 p.m.: Cake Walk
5:30 p.m.—6:00 p.m.: Costume Contest
6:00 p.m.—8:00 p.m.: Trunk or Treat in the parking lot adjacent to Campus Park
**Start and end times are tentative and the schedule is subject to change.
Live Music Schedule
2:00 p.m.–3:45 p.m. at the Sky Room: The Stingrays
4:00 p.m.–5:45 p.m. at the Sky Room: Paul Pino & The Tone Daddies
6:00 p.m.–7:45 p.m. at the Sky Room: Negative Zero
Food Trucks in Attendance – Updates coming soon
Additional Information
All event start times are subject to weather, and may be canceled due to such conditions as rain, wind, or lightning. Admission is free. Parking and park seating space is available on a first come, first served basis. Blankets, umbrellas, and coolers are permitted. Food vendors will be on-site. No glass, outside alcoholic beverages, or individual grills will be allowed. Live music starts at 2:00 p.m. Visitors can access City Center via Unser Boulevard/King Boulevard and Paseo del Volcan/Broadmoor Boulevard.
Campus Park
Campus Park is a multipurpose, community outdoor gathering space that will be an activity hub in the City Center area, and a destination and gathering space for people taking part in city events, concert performances, and more. On a daily basis, the park will be a destination for college students, those working in City Center, and for residents. Phase 1 of Campus Park began spring 2020 and was completed in June 2021.