When:
March 24, 2022 @ 7:00 pm – 10:00 pm
2022-03-24T19:00:00-06:00
2022-03-24T22:00:00-06:00
Where:
Rio Rancho Events Center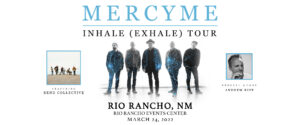 November 26, 2021 – GRAMMY® nominated, multiple American Music Award, Billboard Music Award and Dove Award-winning band MercyMe has announced dates for their spring 2022 Inhale (Exhale) Tour. A continuation of their fall Inhale (Exhale) Tour, they will hit 36 cities across the U.S. The first four dates are rescheduled shows due to MercyMe postponing the final
shows of the fall tour due to COVID, and will be opened by Michah Tyler and Sam Wesley. Rend Collective and Andrew Ripp will open the remaining shows.
For ticket information on all MercyMe tour dates, please visit www.mercyme.org.
MercyMe Spring 2022 inhale (exhale) Tour :
February 16 – Nashville, TN*
February 17 – Cincinnati, OH*
February 18 -Pittsburgh, PA*
February 22 – Indianapolis, IN*
February 24 – Savannah, GA
February 25 – Orlando, FL
February 26 – Estero, FL
February 27 – Sunrise, FL
March 3 – New Orleans, LA
March 4 – Mobile, AL
March 5 – Bossier City, LA
March 10 – Charlottesville, VA
March 11 – Knoxville, TN
March 12 – Fairfax, VA
March 13 – Greensboro, NC
March 24 – Rio Rancho, NM
March 25 – Phoenix, AZ
March 26 – Anaheim, CA
March 27 – Fresno, CA
March 31 – Stockton, CA
April 1 – San Jose, CA
April 2 – San Diego, CA
April 3 – Ontario, CA
April 7 – Portland, OR
April 8 – Kennewick, WA
April 9 – Everett, WA
April 10 – Spokane, WA
April 21 – Duluth, MN
April 22 – Fargo, ND
April 23 – Minneapolis, MN
April 24 – Cedar Rapids, IA
April 28 – Sioux Falls, SD
April 29 – Omaha, NE
April 30 – Des Moines, IA
May 1 – Madison, WI
May 7 – Houston, TX
*featuring Michah Tyler and Sam Wesley