When:
December 3, 2022 @ 6:00 pm
2022-12-03T18:00:00-07:00
2022-12-03T18:15:00-07:00
Where:
Rio Rancho Events Center
3001 Civic Center Circle NE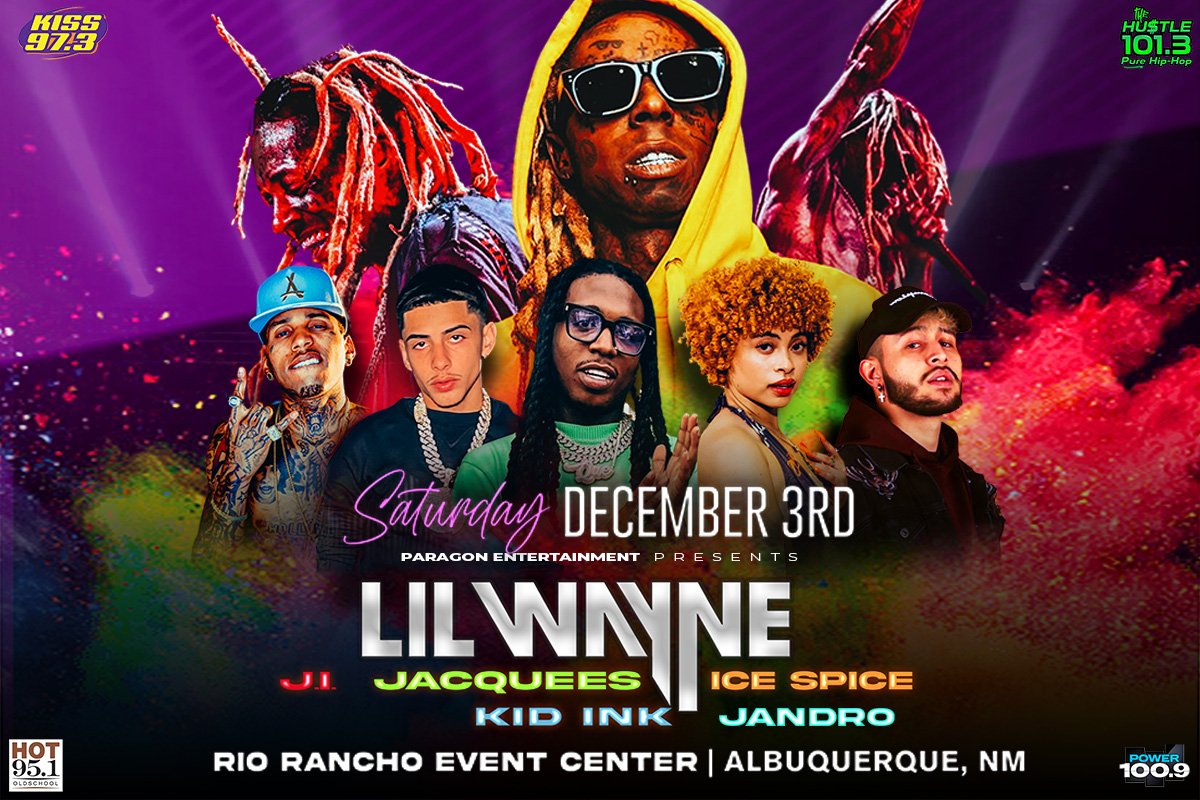 LIL WAYNE ANNOUNCES TOUR STOP
AT THE RIO RANCHO EVENTS CENTER ON SATURDAY, DECEMBER 3, 2022
Rio Rancho, NM (September 16, 2022) – Today, after almost a decade, five-time GRAMMY® winning multi-platinum Hip-Hop artist LIL WAYNE announces his first New Mexico performance at the Rio Rancho Events Center on December 3, 2022.  Presented by Paragon Entertainment, this show will feature well-known and rising artists such as award-winning singer-songwriters Kid Ink, Jacquees, breakout artist J.I., and up-and-coming rap sensation Ice Spice.
Beginning on Wednesday, September 21 at 10 a.m. MST through Thursday, September 22 at 11:59 p.m. MST, tickets will go on presale for a limited amount of time. Fans may register for presale ticket access at www.RioRanchoEventsCenter.com or listen to 100.9 FM BEAT and HUSTLE 101.3 FM for discount codes. Tickets for this special performance will go on sale to the general public on Friday, September 23 at 10 a.m. MST.  Ticket purchases will be available at  www.ticketmaster.com and the Rio Rancho Events Center Box Office (3001 Civic Center Cir NE, Rio Rancho, NM 87144) presented by Chalmers Ford.  Box office hours are Monday – Friday from 10 a.m. – 4 p.m.
About Lil Wayne
Lil Wayne is an American rapper, singer, songwriter and record executive. He is commonly regarded as one of the most influential hip hop artists of his generation, and often cited as one of the greatest rappers of all time.  His career began in 1995, at the age of 12, when he was signed by rapper Birdman, joining Cash Money Records as the youngest member of the label.  Lil Wayne has sold over 120 million records worldwide, including more than 20 million albums and 70 million digital tracks in the United States, making him one of the world's best-selling music artists.  He has won five Grammy Awards, 11 BET Awards, four Billboard Music Awards, two MTV Video Music Awards and eight NAACP Image Awards.  On November 27, 2020, Lil Wayne released the mixtape No Ceilings 3, while announcing the album I Am Not a Human Being III for 2021, although it would not be released that year due to delays. On October 1, 2021, Wayne and Rich the Kid released a collaborative mixtape titled Trust Fund Babies, along with a music video for the single "Feelin' Like Tunechi".  Wayne is currently working on Tha Carter VI.
 About Jacquees
A singer, songwriter, and rapper who crossed over from R&B to hip-hop, Rodriquez Jacquees Broadnax is known simply as Jacquees when he steps out from behind the scenes. His smooth, sensuous songs sound contemporary while staying true to the artist's formative influences, and their main purpose is to make his listeners feel good. Jacquees has collaborated with numerous notable singers and rappers, including Chris Brown, Young Thug, Trey Songz, and others.
About Kid Ink
Kid Ink is an American rapper, singer, songwriter, and record producer from Los Angeles. He released his debut independent album Up & Away in 2012, following an EP titled Almost Home, and his first major studio album My Own Lane in 2014.  On February 3, 2015, he released his third studio album Full Speed. In December 2015, Kid Ink released a surprise commercial mixtape Summer in the Winter with the supporting single "Promise" (featuring Fetty Wap). In 2016, he released the mixtape RSS2 and the EP 7 Series with the lead single "F with U" (featuring Ty Dolla Sign) in 2017. In December 2018, he released the EP Missed Calls supported by the single "YUSO" (featuring Lil Wayne and Saweetie). In 2021, he released his first independent album in 9 years, Alive on April 9.
About J.I.
J.I the Prince of N.Y or more recently simply J.I., is an American rapper, singer, and songwriter. He is best known for his 2019 breakout single "Need Me", which has over 100 million streams on Spotify.
About Ice Spice
Ice Spice is an American rapper who rose to fame after her response to Erica Banks' "Buss It" challenge went viral in 2021. Her first single, "Bully," dropped shortly thereafter. She went on to score a hit with her 2022 single "Munch (Feelin' U)."